Hi! Thanks for being here. This is Our Story...
About Us
The Forged Blade is a rustic collection of chef knives designed for at home chefs, BBQ lovers, knife enthusiasts, and adventurers who are looking to bring their knives with them hunting, fishing, camping, hiking, and backpacking.
We pride ourselves on using the finest quality high carbon and Damascus steel to forge unforgivingly sharp chef knives. Our blades stay sharp much longer than traditional steel, and they are also easier to sharpen.
All of our knives, and knife sets come with genuine leather sheaths and leather rolls which make them an ideal companion for a trip to the outback.
The Forged Blade is for those who want to truly enjoy their meal preparation experience.
Why We Make Knives
The Forged Blade was founded in 2019 when I found that as an aspiring cook and avid outdoorsman, it was difficult to find genuine and authentic high-quality hand made chef knives at a reasonable price.
The vast majority of knives that are sold online today are mass produced with low quality steel and fake wooden handles or even worse... plastic. This is done in order to cut costs as much as possible as these knives have to be shipped from overseas and change hands many times before finally being sold to a chef.
What makes us different is that we brought the entire forging process into one shop, we don't have any distributors and we do not sell our knives to any third parties. We operate with shockingly low overhead and this allows us to be able to use the highest quality steel and natural wood to forge small batches of stunning and extremely sharp knives and pass those savings directly to our customers.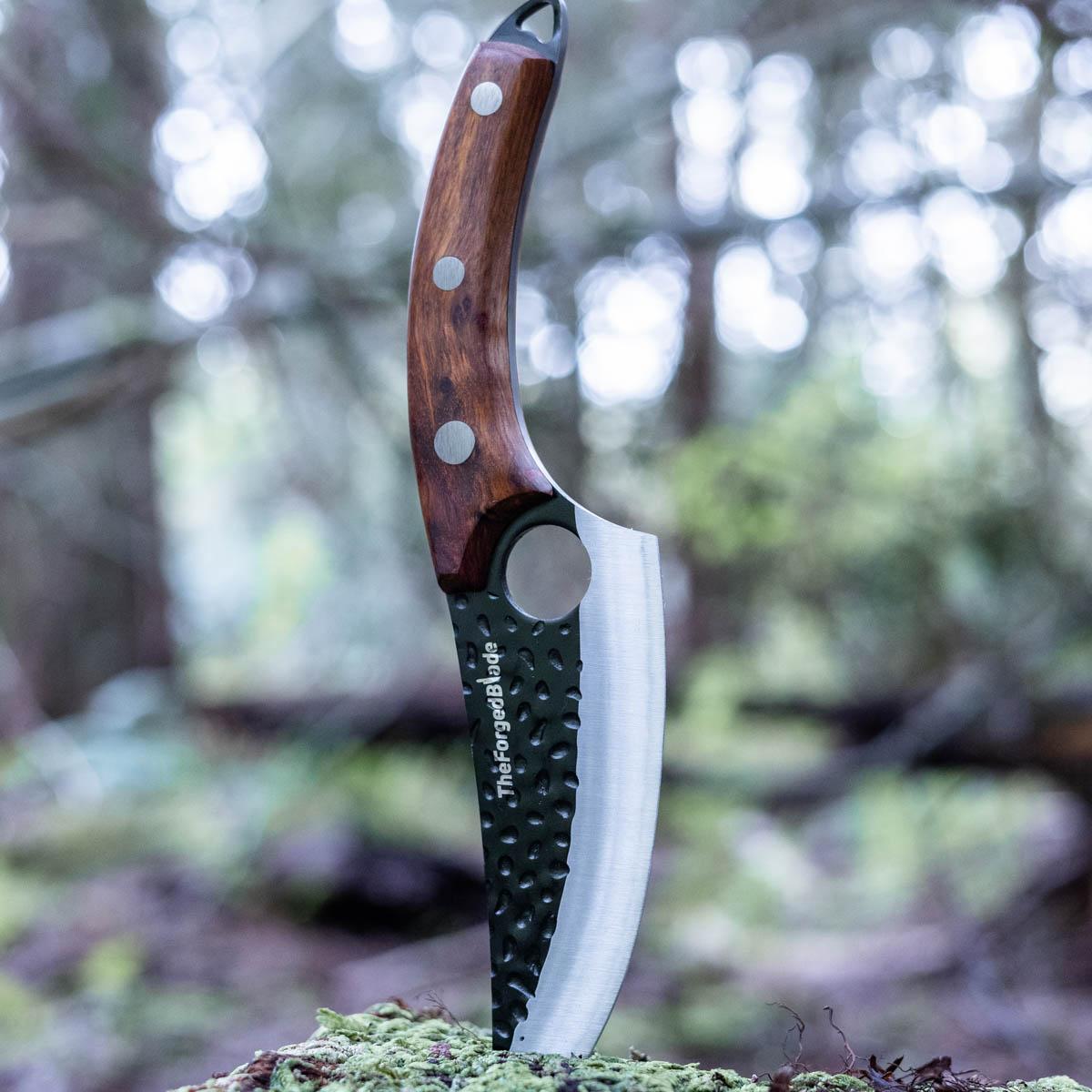 Our Philosophy
We believe that a blade is more than a tool. Our chef knives are functional works of art that can be proudly displayed in any kitchen, and they are also thrilling workhorses that can handle even the toughest meats with ease.
Whether you are planning your next adventure, or you just want to experience cooking with a razor-sharp blade... Our custom chef knives are guaranteed to make your meal preparation a little bit more epic.
★ ★ ★ ★ ★
"I got a few knives for my hubby as a surprise for his birthday and he is in LOVE with them! He said that these are by far the sharpest knives he's ever owned. He now takes them everywhere with him (bbq's and hunting trips). Highly recommended"
- Elizabeth
★ ★ ★ ★ ★
"I'm a professional chef in a busy fast-paced kitchen and these knives ere no joke... sharper than the knives we have in the kitchen. Great weight and balance ratio and I love the raw look. I also take them with me whenever I head out of the city. Very happy!"
- John
★ ★ ★ ★ ★
"This blade is an absolute beast. I love the unique shape (makes it easy to scoop up food and it slices through tough meats like butter). It feels like the design makes it a lot easier to control than my other knives. I also bought one for my dad and he was very happy. "
- Chris