How To Spot Fake Vs. Real Damascus Steel Knives
What Is Damascus Steel? 
Damascus steel knives are widely considered to be some of the best chef knives on the market. These knives were created and first used by eastern civilizations and they were reliable, durable, and unforgivingly sharp. Damascus steel is known to be extremely hard which allows for a keen edge on the blade, but at the same time, it is quite easy to sharpen which is not normally characteristic of hard knives. What makes Damascus steel distinct from other steel is the fact that it's made by combining two different types of steel together. This forging process makes an extremely sharp blade and it creates a wide range of different patterns on the steel.
A Damascus steel knife is not only functional, it's also a piece of art that is permanently attached to a blade that is suitable for all kinds of cooking tasks. Thanks to the sharpness, you can use Damascus steel to easily cut through tough meats, slice fruits, chop vegetables, and perform virtually any kitchen task like a pro. Needless to say, there are many fake Damascus steel knives out there too, since originals can be rather expensive due to the difficult forging process. It's not uncommon to find fake Damascus steel knives on online marketplaces. It's a good idea to learn how to tell the difference between fake Damascus steel and a real knife, and we are here to help!
What Does Damascus Steel Look Like?
Damascus steel is defined by its hallmark blade design which can have a variety of different patterns such as feather, twist, wavy, ladder, watery, or raindrops, and several others. The Pattern itself does not have any raised edges as the blade should be polished and should not be able to be rubbed off easily. The Damascus steel pattern should be visible on the entire blade and all the way through to the butt of the knife.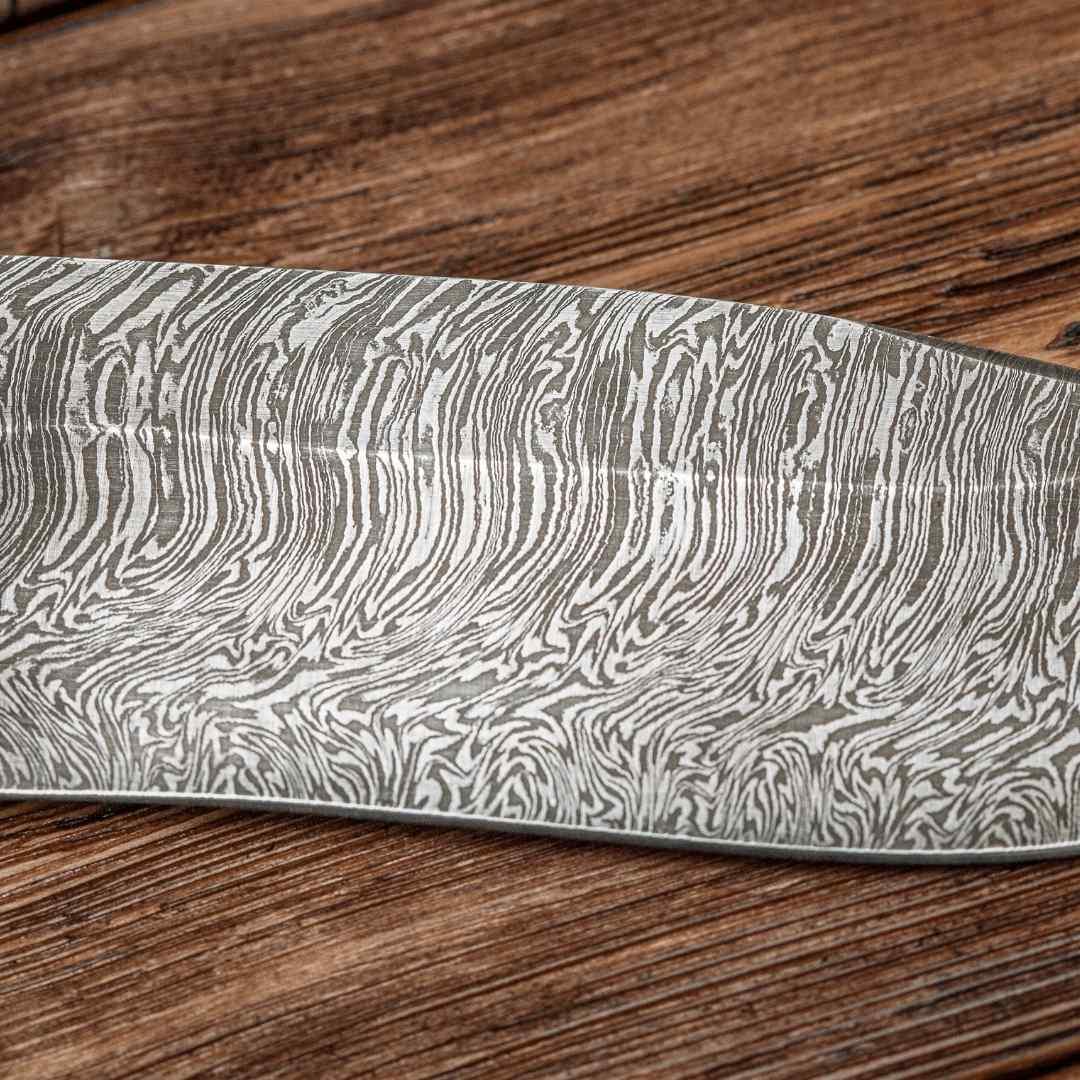 How Can You Tell If Damascus Steel Is Real?
There are several different ways to tell if you have fake Damascus steel or the real thing:
Damascus Pattern: The first thing you want to check is the Damascus design of the blade. If the Damascus pattern designs don't look natural and are extremely detailed or very elaborate, then the knife might not be legitimate. Real Damascus patterns are unique and beautiful but always occur due to the natural folding of Damascus steel. Real Damascus steel chef knives have steel fold patterns that are uniform with the traditional designs such as feather, twist, wavy, ladder, watery, or raindrops, and several others. Generally, real Damascus steel will always have a clearly visible etching that is very easily discernible and uniform throughout the blade. If the etching seems fake or it's barely noticeable, then you are most likely dealing with a fake knife.
Knife Consistency: The consistency of the blade is the next important factor to check. Real Damascus steel will have uniform patterns and folds across the tang, bolster, blade spine, cutting edge, and also on the blade itself. You also want to check the knife's butt, if you can find folds there, this typically confirms that you don't have a fake Damascus knife, and instead own a real one. With that in mind, the spine, tang, and bolster can sometimes be polished, so in this case, you will not see the folds. This is where things get tricky because a lack of any pattern doesn't necessarily mean you have fake Damascus steel on your hands. 
Overall Knife Quality:  The knife quality can often be a tell-tell sign if you have a fake or real Damascus steel knife. Blacksmiths who work with Damascus steel generally take great care to forge knives with the highest quality standards. The blade should come out somewhat flexible, yet strong. If you suspect that the blade is low quality it could be a sign that the Damascus steel is faked.
Polishing: Another way to see if you have real or fake Damascus steel is to polish a part of the blade until the pattern is no longer visible. After that, you need to soak the blade in an acid solution. If you have a fake Damascus knife, then the pattern will not emerge. Instead, randomly marked surfaces will remain visible. However, if you have the real deal, the pattern will emerge again after you remove the blade from the acid solution and this will confirm that you have a real Damascus steel knife on your hands. 
Steel Testing: The final sure-fire way to check for Damascus's legitimacy is to test the steel quality itself. Unfortunately, this is a difficult, expensive, and hard-to-access process for most people. The important thing to note here is that fake knives might mimic the style and visuals, but the composition is very different. Fake Damascus steel knives are typically made from low-quality steel to greatly reduce the manufacturing cost. The pattern is then added on later via acid etching to make the fake Damascus steel knife look like a real one. This also allows the maker of the fake knife to create designs that are not normally seen with real Damascus patterns.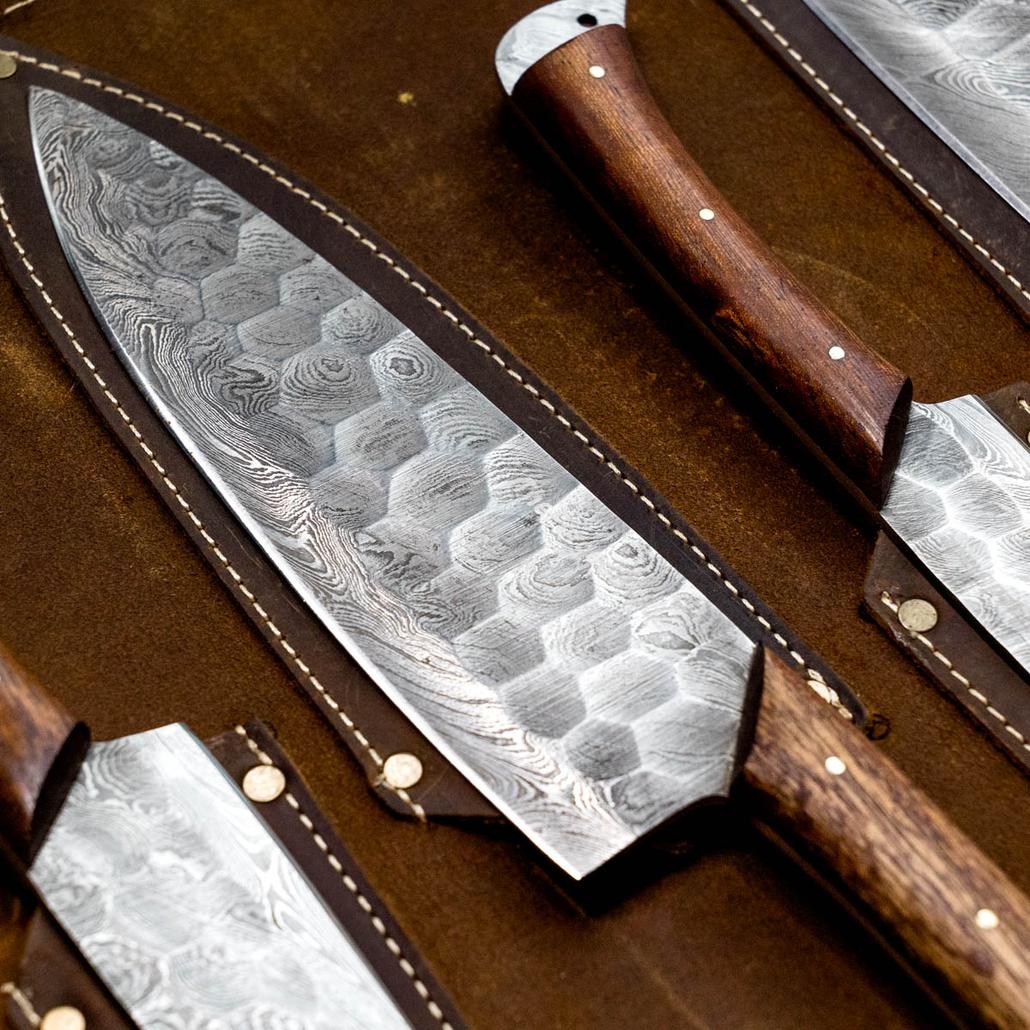 How Is Damascus Steel Forged?
The ancient art of forging Damascus steel has unfortunately been lost in generations. Today, there are 2 main methods to forge what most would call Damascus steel. 
The processes are called pattern welding and Cable Damascus. Cable Damascus started being used when steel wire rope became available during the 1830s. The idea here is that you forge the wire rope, which in turn helps create repeating images on the blade. It's a rather intricate process and it can take a bit to forge the wire rope the way you want in order to create the ideal pattern.
Pattern welding is the most common modern process. During this process, steel and iron are layered together and then these materials are forged by hammering them at a high temperature. In doing so, a welded bond is created. Then it's possible to use flux in order to seal the joint and remove any oxygen thus creating extremely hard steel. The long-shaped bar of metal that is created from iron bars and steel needs to be drawn out and folded multiple times, anywhere from 8 to 16 times in order to achieve the ideal strength for a knife. Needless to say, forging and preparing Damascus steel can be time-consuming. However, this complicated process is what makes them so unique and sought after.
Is Damascus Steel Better Than Regular Steel?
Modern steel today can be on par with real Damascus forged steel in terms of sharpness and durability. With that being said, Damascus steel will retain its sharpness for a prolonged period of time and accepts sharpening easier than traditional modern steel. You also get a bit more flexibility with it when compared to regular steel. The main reason why Damascus steel still stands out is the art aspect of the blade. Many chefs around the world use Damascus knives not only as professional cooking tools but also as display art for their craft. Many famous chefs are increasingly being spotted rocking a true Damascus knife or cleaver when performing their culinary duties. 

Real
Consistent Damascus pattern throughout the blade
Damascus pattern is visible on the tang,  blade spine, and the butt of the knife
High-quality design and finishing of the knife
Damascus patterns are very clear and do not rub off
Fake
Inconsistent Damascus pattern throughout the blade and/or unique designs not typically seen on Damascus steel
Damascus patterns are not visible anywhere else except on the blade itself
Low-quality design and finishing of the knife
Damascus pattern is blurry and/or rubs off easily
Conclusion
As you can see, spotting fake Damascus steel can be easy if you know what to look for, but some of the better fakes out there can be hard to distinguish from a real Damascus knife. The truth is that investing in real Damascus steel is definitely going to be worth it as long as you can avoid getting burned by purchasing a fake knife. Taking your time and assessing the Damascus knife in front of you will give you a good idea of its quality and whether or not it's fake. If you want to avoid the hassle of potentially buying a fake Damascus steel knife, we believe it's essential to purchase your Damascus steel knives from trusted companies.
If you are in the market for a real Damascus chef knife or a Damascus chef knife set you can check out our collection of forged Damascus knives below.
Note: Due to the current demand, our inventories are running low. Order ASAP to secure yours.